Perry Beeches Swimming Club was started by Brian Phelps in 1983. This is the very first advert that was placed in the local paper: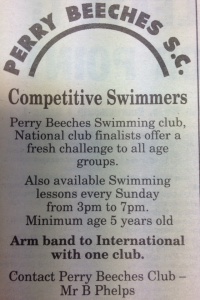 Perry Beeches Sutton Swim Squad is a teaching and competitive swimming club based in Birmingham.  It came about as the result of a merger between Perry Beeches Swimming Club and Triple S Swimming Club in 2003.  This resulted in a large squad of swimmers enabling us to compete and be very successful in a variety of leagues, open meets and friendly galas.

Former Perry Beeches swimmers:
https://en.wikipedia.org/wiki/Adam_Ruckwood
https://en.wikipedia.org/wiki/Nick_Gillingham#Personal_life
In more recent years, due to the tragic death of Eddie Blight in May 2008, we were joined by the swimmers from Westminster Swimming Club.   We compete across the Midlands at various pools mainly on a Saturday evening, we swim as a team to gain league points or to compete for trophies at friendly galas.  We also encourage our swimmers to take part in Open Meets to achieve Personal Best times for themselves and to win medals.