"Ordinary People,Doing Extraordinary Things"…….. We Swim To Get Fit.!,We Swim To Have Fun..! We Swim To Help Others.! A team above all but above all a team
http://bigrickchannelswimteam.blogspot.co.uk/
Update 15/07/13
They did it – Two way swim of the Chanel!!!
Pip`s 2 Way English Channel Swimming Team  2013
Paul & Richard, Rob, Darran, Stuart & Gard
 on the 15th July 2013…
in a time 20hrs 40mins..!!
""officially ""
http://bigrickchannelswimteam.blogspot.co.uk/2013/08/england-to-france-back-again.html
Update 26/06
Many people ask why we are doing a double channel swim again , after last years attempted ended so badly, lets be honest it was bloody scary towards the end ..! this is why, by swimming we still think we can make a difference ,no matter how small that difference might be , swimming can help save lives, we are sure of it..@Breakthrough Breast Cancer Find out more here: http://goo.gl/2Um9w
Update – 2 way channel swim 2013
The Re-Match is on..!
The Challenge –  A 2 Way Swim Of The English Channel.
The Date – 14th July to 19th July 2013
The Charity Breast Cancer Awareness 
We crashed and burned only half a mile from finishing the double in 2012..
The Question is, can we put that right and make it 2013..????…
YOU BET WE CAN……………….!
Link to Ricks Blog below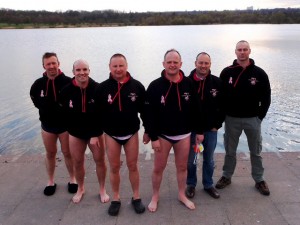 Read why we decided after lasts years horror swim, to try once again to join of only a handful of teams ever to attempt
And complete a 2 way swim of the English Channel…  
..(Simply click the link, or copy and paste it into your address bar)
http://bigrickchannelswimteam.blogspot.co.uk/2013/05/the-show-must-go-on.html
We still hear the Words of our Pilot Fred  after we finally arrived back in Folkestone harbour  around 4 am some 26 hours after we left.. ..Well Lads you did okay, you almost made it, i know you are down and disappointed now, but that's channel swimming for you…Every day is different..!! , Every day brings a new challenge!
If it was easy everyone would be doing it…! just be glad your safe and well and able to try again.!! 
And Try Again we are…
Enjoy…
Best wishes.
Paul and Pips Channel Team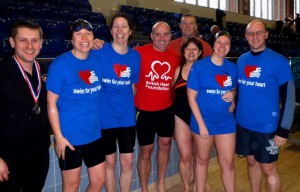 2012….
Big Ricks did attempt their two way Channel crossing in 2012, and after swimming for 22 hours and 36 minutes, the English weather beat them – with less than 1 mile left to swim, they had to call it off. Beeches are very proud of the Big Ricks team, and fully support them in all their efforts yesterday and in the future. WELL DONE BIG RICKS. Please :
Every penny helps the British Heart Foundation and Breast Cancer Research

.
Useful Reading
http://openwaterpedia.com/index.php?title=Paul_Bates
http://www.youtube.com/watch?v=7H26QUsgC3Y
http://www.edowsc.org/ed/archives/3401
http://www.youtube.com/watch?v=KaeFmwICqb0