Beeches Babes takes children from the age of three, and promotes confidence and enjoyment in the water for all children. Two teachers are in the water with the children, and ensure the children are safe whilst they have fun. Children follow the National Teaching Plan for swimming and are assessed whilst they play, gaining badges as their skill levels improve.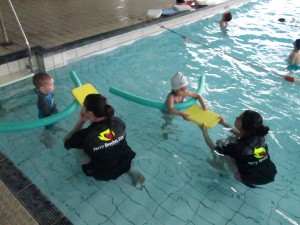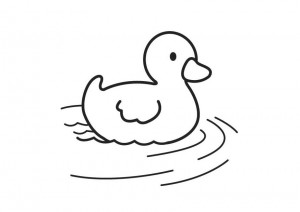 14:00 Class – Babes 1 – Ducklings 1 & 2
14:30 Class – Babes 2 – Ducklings 3, 4, 5
15:00 Class – Babes 1 – Ducklings 1 & 2
15:30 Class – Babes 2 – Ducklings 3, 4, 5
DUCKLING Awards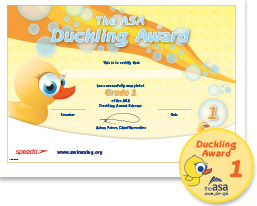 The Duckling Awards are designed to help babies and toddlers explore and enjoy the fun of learning to swim. With the help of their parents/carers, the Duckling Awards support the National Plan for Teaching Swimming and help to develop and boost the confidence of very young children, both in and out of the water.
Children participating in both these awards should be at least five months old and have completed his/her triple injection. The child must be accompanied by an adult while in the water (less than 1.5m deep), during teaching sessions and the test.
Adults and carers continue to accompany and support the child throughout each session and the child is rewarded at each stage with bright and colourful Awards. Buoyancy aids (including armbands, floats or a SwimFin etc) can be used in the first four grades as the child learns how to float and gets used to being in the water.
The fifth and final grade shows the confidence level of the young swimmers. They have to jump into the water, swim back to point of entry, submerge and blow bubbles, float and swim five metres – all without aid.
Free Trial – Contact comeandjoinus@perrybeechesswimming.co.uk for more information