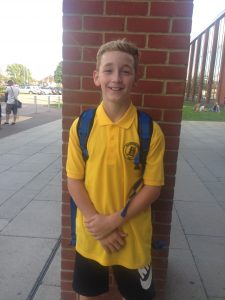 Congratulations go to Harvey Higgins, who swam for the first time for Warwickshire on Saturday at the Bedfordshire Inter Counties. Beeches is proud of Harvey and his achievements.
Gala Report:
Saturday 2nd September 2017 saw the Warwickshire County Junior Team (10-13 yrs) competing in the Bedfordshire ASA Junior Intercounty Gala, at the Inspire Competition and Community Swimming Pool in Luton.
The Competition was against 6 other county teams from across the country including Suffolk, Bedfordshire, Hertfordshire, Lincolnshire, Essex County and Leicestershire. The whole evening was an enjoyable experience, with a fantastic opportunity for all involved. Every single one of the 31 swimmers who represented their county swam amazingly well, with several fabulous personal bests and a handful of regional times achieved.
The Gala started off with a convincing win for Annabel Crees (Rugby), Thomas Hudson (Nuneaton), Charlotte Gledhill (Nuneaton)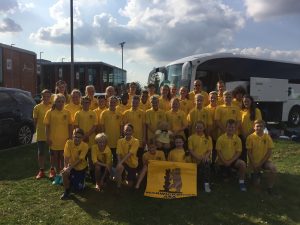 and Dominic Simpson (Nuneaton), who lead from the start of their 10 years mixed 4×50 Freestyle relay beating the competition by over 30 seconds. The evening continued in much the same vain with the team consistently placing with in the top four teams. Other notable 1st place finished included: Thomas Hudson's (Nuneaton) wins in both his individual races in the 10 years 50m freestyle (31.80) and the 50m Backstroke (37.56), Connie Palmer (Boldmere) also won her 10 years 50m freestyle in a time of 32.44. Erin Davis (City of Birmingham) secured a win in her 13 years 100m Freestyle individual in a time of 1:02.16, while Charlotte Gledhill (Nuneaton) won her individual in the 10 years 50m Backstroke with a time of 38.27 and Finally George Smith (Leamington Spa) Finishing of the individual races with a win in the 13 years boys 100m Breaststroke in a time of 1:13.93. The gala was an overall success for Warwickshire with over 80% of the races seeing the team place 4th or above with these 8 impressive first place finishes enabling to the team to finish in a comfortable 2nd place.
Finally we would like to say a massive thank you to the local teams: Rugby, Nuneaton and Bedworth, City of Birmingham, Boldmere, Blyth, City of Coventry, Leamington Spa, Orion and Solihull who providing swimmers for the event. As well as the Volunteers, Graham Nash (Head Coach from Leamington Spa), Jessica Ford (Coach from Coventry) Joey Stanger (Coach from Boldmere), Elaine Gale (Team Manager from Boldmere), and the officials, Rachel Cutler (Rugby), Andrew Herbert (Leamington),Kerry Hancock (Kingsbury) and Lucy Gale (Boldmere). As well as a huge congratulations to all who swam and represented their County.
(If anyone would like to see the overall results and times for all swimmers including relay splits please follow the link below: http://bedscountyasa.com/results/2017/InterCounty/index.php )