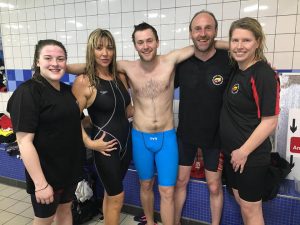 Perry Beeches' Staffordshire Masters Team.
A great effort by The Beeches Famous Five.
We may have been a small team…but we had big results …loads of medals loads of personal bests – a great effort one and all.
The Beeches Team for the weekend consisted of Cathy, Becky, Stephen, Pete and Jenny.
Between them they amassed:
11 Golds
5 Silvers
4 Bronze
25 top 5 places
Gooooooooooooo Beeches .!!!!
Report by Paul Bates.