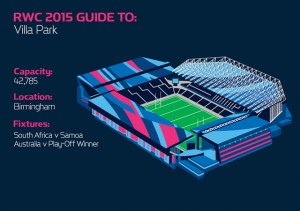 Would you like some tickets for the Rugby World Cup 2015 Saturday 26th September South Africa v Samoa played at Villa Park?
Even if you are not a rugby enthusiastic this is a unique chance to go an experience a world cup in the sport of rugby and you never know you may just enjoy the atmosphere, oh and I suppose see what Villa Park looks like too!
If you would like to be involved (and get some tickets!) please use the 'Contact Us' option on this site, or visit the Beeches Facebook group, and leave your name in the comments, before the 10th August 2015.
Good Luck to All and have lots of FUN!