Becky Gulliver was yesterday crowned 'Top Girl' at the Boldmere Water Carnival, for amassing more points over the weekend than any other female swimmer.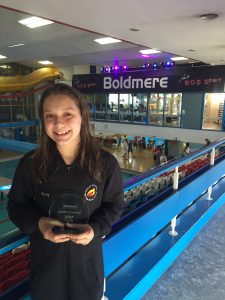 Becky's results were as follows:
Gold medal in the 100 Free
Silver medals in the 200 Free, 100 Fly, 50 Back, 200 Back, 400 Free, 200 Fly
Bronze medals in the 100 Back and 50 Fly
5th place in 200 IM and 100 Breast
6th place in 50 Breast
Becky medalled in every event to regain the title she first took 2 years ago at the age of 9. Becky also gained club records in the 400 Freestyle and 100 Freestyle.
Well done Becky Gulliver – it shows that the training is paying off!