It was an amazing weekend for the Perry Beeches sss swimmers who took part in the first weekend at the Warwickshire County Championships at Coventry's 50m pool.
First with success was Carys Higgins, who came second in the 11/unders 200 Breaststroke.
Then, the boys medley and freestyle relay teams of Joel Harris, Callum Gibbons, Vashon St Rose, Harry McGovern, Billy Martin, Mason Carless, Jacob Dunn, Daniel Johnson and Metin Ulukus – many of whom came to swim and support the team, whilst gaining useful 50m swimming experience.
Carys then went on to reach the finals of the 50 Backstroke, coming 8th in the final.
Catrise Hart and Becky Gulliver also made the final for their age group of the 50 Backstroke – Catrise coming 3rd and Becky 4th.
Harvey Higgins won the 50 Butterfly for the 13/unders.
Then onto the 100 Back for Boys – Lewis made the final and came 6th, and Jamie Keyte came 7th.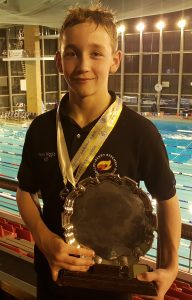 Harvey also made the final of the 200 IM – and won this too for the 13/under category.
Onto Sunday's races and the girls 100 freestyle, Carys and Becky both reached the finals in their age groups, and both came 6th in their respective finals.
Then onto the girl's 50 freestyle. Again Carys and Becky made the finals in their age groups, this time Carys came 6th and Becky came 5th in their age groups.
Becky then went onto swim in the girls 400 freestyle, coming 3rd in the 13/under category.
Harvey then swam the 50 and 100 Breaststroke making the finals for both events. Harvey came 3rd in the 50 Breast and 2nd in the 100 Breast.
Perhaps Harvey was saving himself for the 200 Freestyle, where he cruised home to an easy win! Jamie also made the final coming an admirable 4th place in his age group.
Carys, not wanting to be outdone by Big Brother, went onto win the 11/under girls 100 Butterfly in the final. Becky also made the 13/under final, coming 7th.
Catrise and Becky finished the day off in the 200 Backstroke final – Catrise coming 2nd and Becky 7th in the 13/unders final.
Well done to everyone who took part – all events have to be qualified for, meaning they have all worked really hard to get there in the first place. Special thanks to the relay swimmers too.
Here's looking forwards to the second half of the Warwicks this coming weekend…….