A big well done to the Beeches Junior swimmers, who took part in this year's Division 3 final at Walsall Gala baths on Saturday 13th September.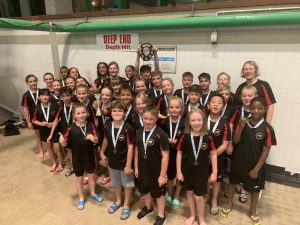 Going into the gala in third place, after a successful season of swimming, the team faced opposition from Wolverhampton, Worcester, Stourbridge B, Oswettry Otters and Tamworth.
The team finished 3rd, just 6 points behind second placed Wolverhampton 🙂
Winners on the night were the Boys 11 year old medley relay team (Billy Martin, Joel Harris, Harry McGovern, Jake Gillon); Megan Russell (girls 10 year old Breaststroke); The boys 11 year old freestyle relay team (Eoghan Coyle, Billy Martin, Harry McGovern, Joel Harris); Metin Ulukus (Boys 12 year old Breaststroke) – Metin broke the division 3 record in this event; Joel Harris (Boys 11 year old Breaststroke); Boys 8 by 1 cannon (Kerim Ulukus, Charlie McGovern, Eoghan Coyle, Jake Gillon, Joel Harris, Billy Martin, Luke Sergeant, Metin Ulukus); Boys 12/under medley relay team (Luke Sergeant, Metin Ulukus, Harry McGovern, Vashon St Rose).
Head Coach Helen Pordage is very please with both the performance of the swimmers on the night, and their behaviour in the stands too. A big well done to the whole team! Division 2 here we come!