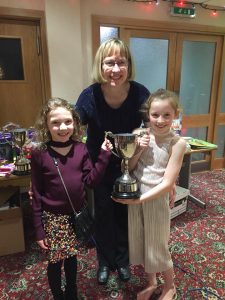 Vernon Tonks was a very successful coach at Perry Beeches swimming club, who unfortunately passed away in 2013. Two trophies were bought in his memory, and are given to the best performing girl(s) and boy(s) at the Annual Club's Christmas Gala.
This year two girls are to share the trophy – Lois Markham (9) and Carys Higgins (10), who both won every single race in their age groups.
There were also two winners for the boys this year – Joel Harris (9), and Jacob Dunn (11) – again both of them winning every single event in their respective age group.
Head Coach Helen Pordage is very proud of all four swimmers and their achievements to date.